Most Ukrainians are Orthodox Christian of various denominations with a small section of Islamic Tatars and Greek Catholics. Recently, the Ukrainian Orthodox Church was recognized as an independent patriarchy, breaking away from Moscow finally.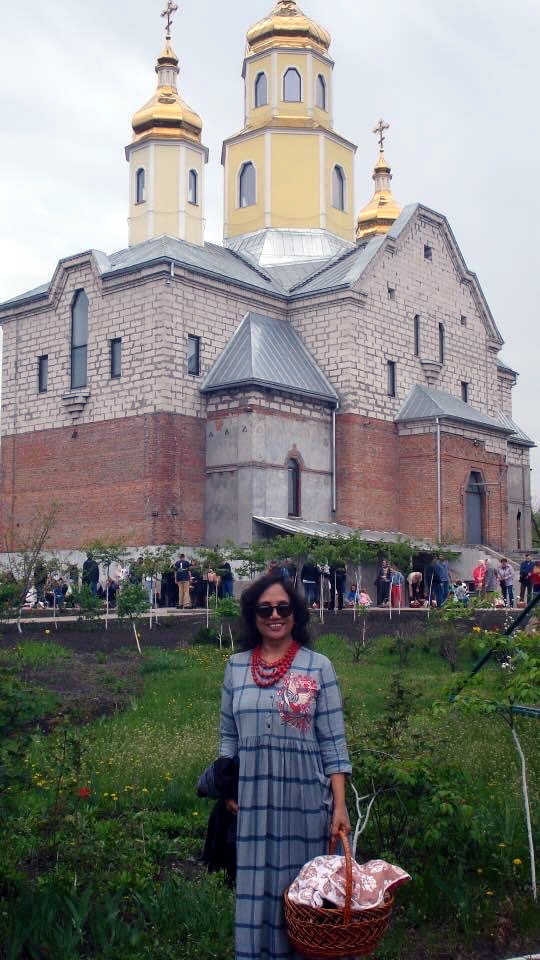 Eastern Europe and Ukraine celebrated Easter on April 28th a week after Roman Catholics, Protestants and the rest observed it. I happened to be here for the first time and wanted to share my first hand experience of how Easter, marking the resurrection of Jesus Christ, is celebrated in Ukraine.
Easter is a big Christian holiday and though it falls on a Sunday, the following Monday is a National holiday. Families meet and have a relaxing lunch dressed in Vyshyvankas, their traditional embroidered clothing.
I kept an eye out, as I woke up on the Easter Sunday looking for signs and I saw many. The elderly, the middle aged and younger married folks with babies and toddlers in toe were heading to various churches in the neighborhood with cane baskets laden with Easter offerings of Paskas (a sweet, fruity bread), sweet wine and Pysankas or painted eggs. As I kept peeping out every now and then I counted almost 40 baskets, beautifully covered with lacy cloth. Early morning, there were older folks, babushkas and others walking or taking a bus or metro with the basket in tow. The day started early.
In the days to the run up for Easter, stores and streets had sellers selling cane baskets, paskas and even plastic flowers for the All Souls Day. The long weekend was eagerly awaited and being a fairly warm Spring, the beer cans and bottles were out and being devoured by revelers!
I went along with my son in law to the old church at Obolon a while later. The old church is small and is more like a chapel. However, construction on a new church is near completion in the same grounds.
Folks of all ages, singles and or families were lined up at the church to have their baskets blessed by the priests, with the holy water. There were over 50 people line up before us and we took our place in queue observing the kids prancing around.
Two priests in their ceremonial habits finally made their entrance, one with a basket for donations and the other with the holy water which he liberally sprayed on one and all. At some level it's similar to what we have in Hindu temples, I thought.
We then stepped into the old chapel, to light candles in remembrance of those gone and for the good health and prosperity of those with us. The chapel, like a temple, was lined with photos of Jesus, Mary and all the saints that Orthodox Christians revere. It was a great experience.
Generally, families meet together after the visit to the church and have a relaxed Easter meal. I did it too with my daughter and Maapillai with a home cooked and ordered in meal alone with Kagor wine, used for such events.
Here are some pictures from my Ukrainian Easter experience. Hope you enjoy them!